Penat sungguh arini kejer.. Tennnssssiiiooonnn..!!!!
Nak tau naper, sebab arini kat tempat kejer ramai sangat orang. Pening tengok diowng kuar n masuk.
Pastu pulak tempat ZT der perabot baru masuk. Hurmmm. PENAT. bukan penat aper taw..!! PENAT tengok orang dok angkut ke hulu ke hilir perabot tu. aishhhh..!! buley jadi mengong otak ni. huhuhu.
One more thing that TODAY auditor coming..!!! I HATE AUDITOR

macam nak tendang-tendang ngan tumbuk-tumbuk jer.. DUSHHH..DUSSSHHH
Auditor ni kejer dia menyusahkan orang, huhuhu.. Hate auditor coz ZT kena balek lambat. Bos ZT tak bagi ZT balek cepat :( . Bos ni pown satu, ader ker nak ZT balek lambat. Dia xper lah buley everyday balek lambat. Anak bini dia x kesah, tapi ZT kesah..!! ZT pown der family ( family parents k not husband )
LOVE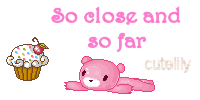 Ni lagi satu, jauh ngan my kecayangan bertambah rindu pulak ngan dia ni. Dah lama tak jumpa, just contact dalam fon jer :( .. hurmm, so sad rite. Ader orang cakap, " Walaupown jauh di mata tapi DEKAT di hati ".
Memang lah betowl per kata pepatah tu, tak der yang salah pown. Makin jauh makin rindu ngan sayang. Kalau dah dekat pulak, makin lama makin mesra, hehe. Ehh betowl ker..???

ahaaa... dah lewat malam ni. tak baper elok sangat tdow lewat-lewat ni (my kecayangan sayer cakap).
2morow early morning must wake up and go working..!!! OMG.. malas sungguh rasenyer mahu g kejer.
Bytheway, ZT must go working tomorrow. Anyway, thanks a lot to you because sudi baca entry ZT :).
Salam kemaafan dari ZT,
mana yang baek datangnyer sumer dari TUHAN, mana yang buruk datangnyer dari diri ZT sendiri.
GOOD NYTEZ